In an article in this week's Spectator Fraser Nelson, the magazine's editor, and James Forsyth, its political editor, claim the government is planning to announce a 3% increase in NHS spending around the time of its 70th anniversary in July. They say:
[Simon Stevens, the NHS England chief executive] is about to get what he demanded. Theresa May plans to give the NHS a present, ahead of its 70th birthday in July — a settlement of 3% extra a year, which would mean that by the next election NHS spending would be £350 million a week more than it is today. This means, much to [Philip] Hammond's rage, that the famous Brexit bus pledge is to be honoured — though not of course with money saved by leaving the EU.

Stevens, ever wily, now wants the figure to be closer to 4%, and for the next decade. Hammond, a political realist, has accepted the case for giving significantly more money to the NHS. But the Treasury prefers an increase of around 3% and for five years, not ten. Nor has Hammond agreed that this sum ought to be dressed up as an NHS birthday present.
According to the BBC's political editor Laura Kuenssberg, this increase has not yet been agreed, and there is talk of the increase in NHS spending being as low as 2% a year.
But even if the Spectator is right, and 3% is on the cards, May has been told this morning that this would not be enough. In fact, Sarah Wollaston, the Conservative MP and GP who chairs the Commons health committee, suggested on the Today programme that any increase less than 4% could be "disastrous". She said:
The difficulty would be if [the government] make a funding announcement that is way below expectations, I think that would be disastrous. The figure we are hearing touted today, of 3%, that simply wouldn't be high enough.

If we look at the long-term average since the start of the NHS, that's been around 3.7%. And what we are hearing very clearly from today's report is that we need a longterm average of 4%, and if possible more in the short term, to make up for the eight long years where we've had the longest squeeze in the NHS's history.
By "today's report", she was referring to the report (pdf) from the Institute for Fiscal Studies and the Health Foundation saying the NHS needs a funding increase of around 4% just to secure "modest improvements". We've splashed on the report.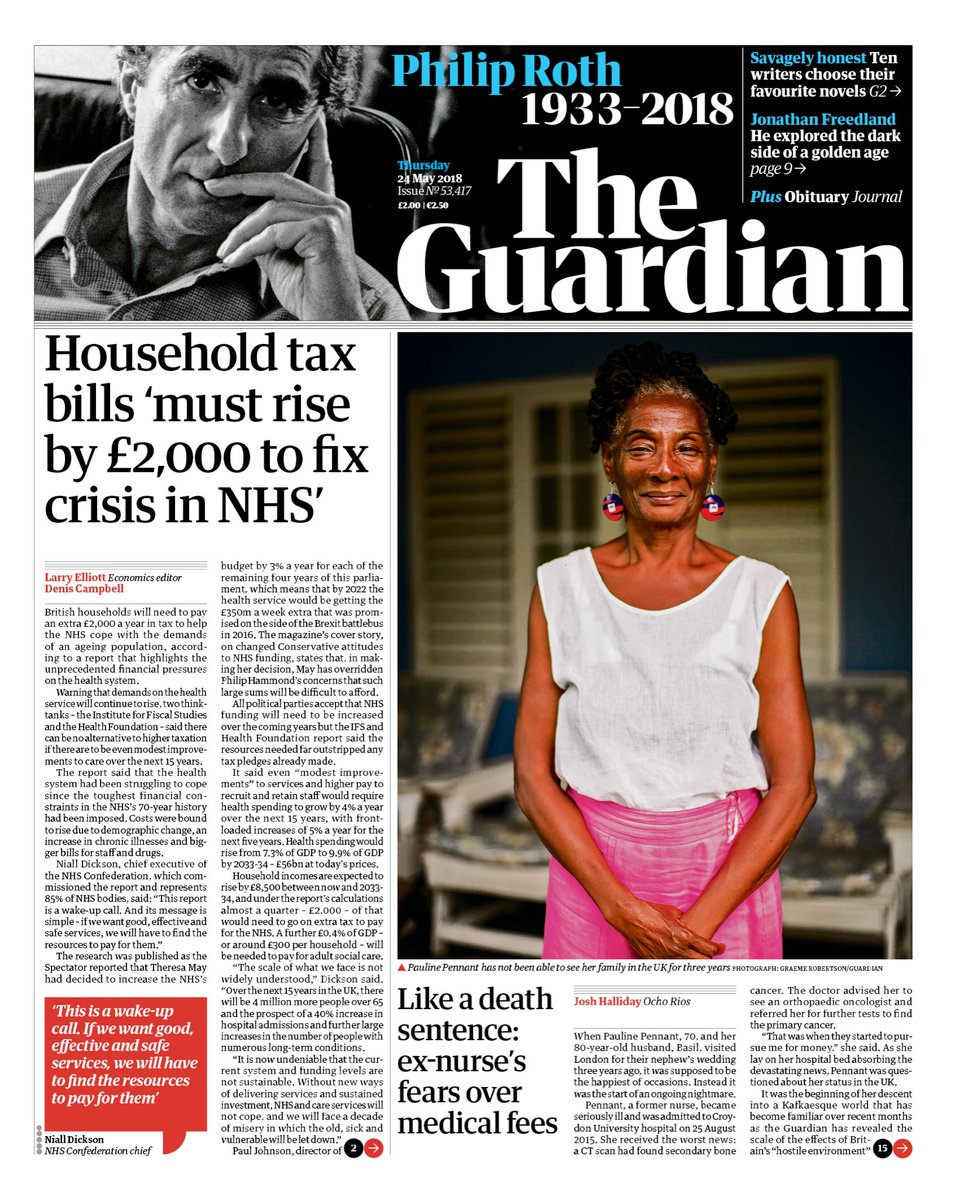 And here's our story.
On the Today programme Wollaston said that a 3.3% increase in NHS funding (what the Specatator says is being planned) would just be enough to "stay where we are". She went on:
If we want to improve services, we're looking at 5% in the immediate few years, and 4% as a longterm average. And I think the government should look very seriously at these figures.
She also said she thought the public would be willing to pay more in tax to fund an increase in NHS spending.
Wollaston's demand for a 5% increase in spending in the short term echoes what the IFS/Health Foundation report says. Here is an extract from the news release summarising its findings. (Their bold type, not mine.)
To secure some modest improvements in NHS services, funding increases of nearer 4% a year would be required over the medium term, with 5% annual increases in the short run. This would allow some immediate catch-up, enable waiting time targets to be met, and tackle some of the underfunding in mental health services. This would take spending in 2033–34 to 9.9% of national income, an increase of 2.6% of national income relative to 2018–19.

At the same time, pressures on social care spending are increasing and, if we continue with something like the current funding arrangements, adult social care spending is likely to have to rise by 3.9% a year over the next 15 years taking an extra 0.4% of national income, relative to today.

Put these figures together and health and social care spending is likely to have to rise by 2–3% of national income over the next 15 years.
I expect there will be more on this as the day goes on. But there is a lot else around, including Brexit developments.
Here is the agenda for the day.

After 10.30am: Andrea Leadsom, the leader of the Commons, will make her weekly business statement. She is expected to announce when MPs will debate the Lords amendments to the EU withdrawal bill.

11am: Jeremy Corbyn gives a speech at Queen's University, Belfast. As Pippa Crerar and Jessica Elgot report, he will call on Theresa May to reconvene the British-Irish intergovernmental conference, set up under the Good Friday Agreement, to help restore the power-sharing government to Northern Ireland.
1pm: The Commons Brexit committee publishes a report on the Brexit negotiations.
4.15pm: Philip Hammond, the chancellor, gives a speech at the European Business Summit in Brussels.
As usual, I will be covering breaking political news as it happens, as well as bringing you the best reaction, comment and analysis from the web. I plan to post a summary at lunchtime and another in the afternoon.
You can read all today's Guardian politics stories here.
Here is the Politico Europe round-up of this morning's political news from Jack Blanchard. And here is the PoliticsHome list of today' top 10 must reads.
If you want to follow me or contact me on Twitter, I'm on @AndrewSparrow.
I try to monitor the comments BTL but normally I find it impossible to read them all. If you have a direct question, do include "Andrew" in it somewhere and I'm more likely to find it. I do try to answer direct questions, although sometimes I miss them or don't have time.
If you want to attract my attention quickly, it is probably better to use Twitter.