2017 saw more than 21,000 cases and 35 deaths, with large outbreaks in one in four countries, says World Health Organisation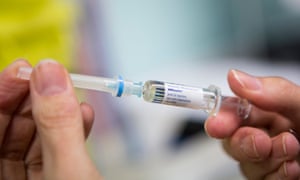 Measles cases have soared across Europe over the last year, with large outbreaks affecting one in four countries, according to the World Health Organisation (WHO) which is concerned by low rates of immunisation against the disease.

WHO Europe says there has been a 400% increase during 2017, with more than 21,000 cases and 35 deaths. That will be a major disappointment following the record low in 2016, when there were just 5,273 cases in Europe.
"Every new person affected by measles in Europe reminds us that unvaccinated children and adults, regardless of where they live, remain at risk of catching the disease and spreading it to others who may not be able to get vaccinated," said Dr Zsuzsanna Jakab, WHO regional director for Europe. "Over 20,000 cases of measles, and 35 lives lost in 2017 alone, are a tragedy we simply cannot accept."
Measles can kill or cause long-term damage. One in every thousand children affected develops encephalitis, which is swelling of the brain and can lead to deafness or learning difficulties.
Measles is targeted for elimination around the world, because of the efficacy of the vaccine, but it has been bedevilled by regular outbreaks. WHO said there were large outbreaks last year in 15 of the 53 countries in the European region. Romania was worst affected with 5,562 cases, followed by Italy with 5,006 and Ukraine with 4,767.
Immunisation in those countries has hit a number of problems in recent years. There have been declines in overall routine immunisation coverage, consistently low coverage among some marginalised groups, interruptions in vaccine supply or underperforming disease surveillance systems.
Greece (967), Germany (927), Serbia (702), Tajikistan (649), France (520), the Russian Federation (408), Belgium (369), the United Kingdom (282), Bulgaria (167), Spain (152), Czechia (146) and Switzerland (105) also experienced large outbreaks, many of which were in decline by the close of 2017.
Confidence in the MMR – measles, mumps and rubella – vaccine and in immunisation generally has been an issue in Europe and in the United States following the discredited claims of the researcher Andrew Wakefield, who linked the MMR to the development of autism.